Talk about a whole new age. Medical industries worldwide have seen the benefit of ultra-fast UV sterilisation machines and have implemented them in a range of industries and professions. Given the spectre of new challenges such as COVID-19, these units have been crucial in delivering better outcomes, making workflow and facilities management more efficient.
Italy, South Africa Disinfecting Faster with UV
The Yanex units are the only products available in Australia that can sterilise a room in 2 minutes. Utilised extensively overseas, this leading-edge technology kills airborne and surface dwelling pathogens which not only efficiently sterilises an entire room, but improves the air quality too.
Medical organisations have utilised the Yanex's functions in high COVID-19 zones to assist with virus control. Italy, which in December 2020 had over 200,000 active cases, implemented Yanex-2M units to sterilise hospitals and medical tents which are used to treat COVID-19 patients. 
The Yanex-5 is used in situations where timeliness is critical and is the perfect tool for emergencies where a full hand clean may take too long. Emergency vehicles like a heliabulance in Ireland and several other ambulance vehicles, which need to be ready on-call, have made use of the Yanex's fast-paced and effective sterilisation process. 
Both Yanex systems can sanitise a room and prepare it for use in between 30 seconds to 5 minutes. Emergency rooms could benefit from this to meet the demand of high patient turnover. 
Netcare South Africa has implemented 28 pulsed ultraviolet systems across 22 sites to combat the outbreak of COVID-19.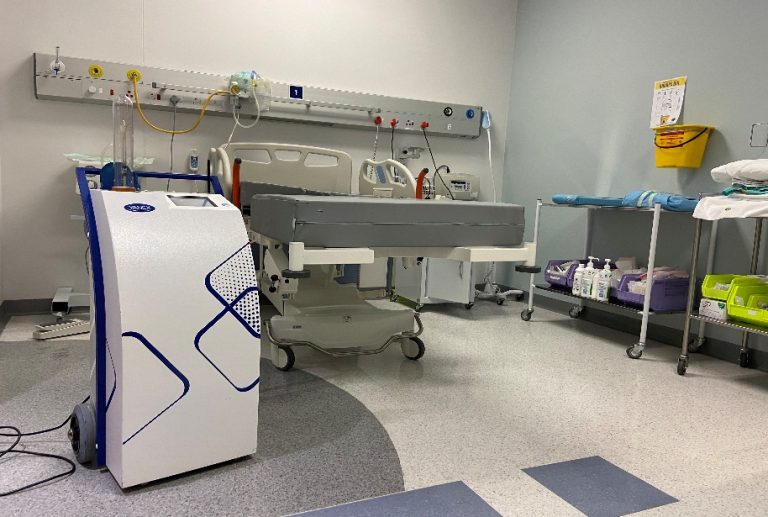 By using intense flashes of UV light, germs are eliminated from a room in a matter of minutes. Compared to only manual chemical sanitation by hand, the Yanex series offers more uniform and consistent sterilisation – without the risk of human error. 
Two Yanex models are available for purchase in Australia: the 'Yanex-2M' and the 'Yanex-5'. Both are portable pulsed xenon UV units which will sterilise a room with 99.99% efficiency from bacteria, including antibiotic-resistant strains. Both models can be used in a variety of situations, but common use shows the Yanex-2M as the more popular option for building and clinic use. One Yanex-2M model has the potential to disinfect over 300 rooms daily over 24 hours.
The smaller Yanex-5 is often used in confined spaces where storage is limited (such as vehicles, aircrafts, vessels and pop-up clinics) to sanitise a space and make it safe for use quickly. 
These models provide complete sanitation for places which can be hard to reach or difficult to wipe surface areas like medical tents, curtains and vehicles.
Netcare has included both models in its hospitals and several ambulance vehicles so a space can be ready to facilitate patients in as little as 30 seconds.
Complete Surface Sterilisation 
Health workers and doctors are some of the most at-risk professionals as they are regularly exposed to a variety of health hazards in the workplace, making Healthcare-Associated Infections (HAI) an ever-present threat in all of these environments. While sanitation requirements are prudent in the medical industry, workers are still vulnerable to biological exposure, disease-causing organisms or harsh chemicals.
The Yanex series is a proven UV sterilisation service. While it has only recently been made available to Australian facilities, it is utilised throughout the world to disinfect rooms from all bacteria, viruses and other pathogens. It is a 'tried and tested' method to lower the risk of infection for workers and patients in a healthcare environment.
These units are designed for spaces in the healthcare sector, including hospitals, doctors and dentists offices, aged care facilities, and can be used in childcare facilities, gyms and schools.
Fast Operating For Urgency 
The Yanex machines offer total sanitisation in a concise timeframe and can kill harmful pathogens like SARS-CoV-2 at 99.8% efficiency in just 2 minutes, or at 100% in 3 minutes. 
Yanex-2M – At 2 Metres vs COVID-19
2 minutes – 99.8% efficiency on Bacteria Mode
3 minutes -100% efficiency on Spore Mode 
How It Works
The Yanex systems use a quartz Pulsed Xenon Lamp which releases ultra-strong light flashes with the frequency of several hertz. The UV light damages the genetic material of bacteria and other pathogens (DNA, RNA) and biomembranes which leads to DNA molecule destruction. 
The Photooxidation of lipids damages the membrane of harmful cells, which causes the cells to lose their barrier function and subsequently die.
The Yanex UV sterilisers have been implemented in several medical and commercial facilities worldwide. This proven method of disinfecting is new to Australia and offers a revolutionary way to keep a space free of harmful bacteria and other microorganisms. 
Medical Device Technologies is the only provider of these systems in the country. Our goal is to give Australian medical and commercial organisations access to new-age technology in bacteria and virus protection. We are an innovative company that sells medical equipment and provides professional consultancy services to a range of industries, with our core focus on the healthcare sector. If you're interested in equipping your business with the leading UV sanitation equipment, contact us today.